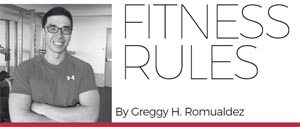 Loads of chocolates, boxed cookies and those specialty cakes are being passed around this holiday season. After all, who wouldn't appreciate those delectable sweet treats amid all the merrymaking? In fact, giving away food items has been a default setting for some of us makes things a whole lot simpler, except, of course, when the recipient is someone who embraces or is trying to embrace the fitness lifestyle.
Here are 10 gift ideas for that fit someone—or for somebody we would like to gently nudge into fitness.
Gym/fitness class memberships—From full one-year memberships to a day pass, there are various options to pursue. Gym memberships, yoga classes, CrossFit and whatnot. Some Gold's gym branches, for instance, are offering 24 gym sessions for two for P2,445. Yoga studios like Bikram Yoga Manila offer day passes at P499.
Workout top/t-shirt—Workout tees are a staple consumable of the fitness warrior. An Under Armour classic t-shirt in moisture wicking fabric is my personal favorite.
Fitness tracker—This wearable device keeps track of one's daily activities and monitors key fitness information such as calories burned. Crucial information for someone wanting to shed excess pounds.
Jump rope—No gym, no problem. A jump rope (or skip rope) is an excellent way to burn calories and get the heart pumping without having to leave home.
A bag of whey protein—Perfect for those who lift weights and want to gain lean muscle mass. Stacker2 Whey Protein is a high- quality, affordable option.
Yoga mat—This not only works for yoga, but it is also ideal for floor exercises and stretching routines, whether for use at home or in the gym or yoga studio.
Wireless earbuds—Intense workouts are usually accompanied by a motivational sound-track. However, those wires sometimes get in the way.  Enter wireless earbuds that make sure music is delivered unobstructed.
Insulated water bottle—As gym sessions require a lot of hydration. An insulated water bottle not only keeps one hydrated, but it also helps lessen the use of plastic cups and bottles. Hydrate and save the eErth all at once with this gift. Klean Kanteen and Hydro Flask are great choices.
Gym bag—A nice gym bag to stuff in all the gear will always be useful. Pick one with compartments for shoes, keys, wallets and water bottles.
Spa/massage gift card—Workouts can, and will, wear down our bodies no matter how tough we think we are. What better way to put it at ease and relieve those tired muscles than a gentle, relaxing rubdown from a spa.
May we give generously, receive gratefully and, more important, remain steadfast in our fitness commitments in this season of endless feasting.
(Visited 6 times, 1 visits today)